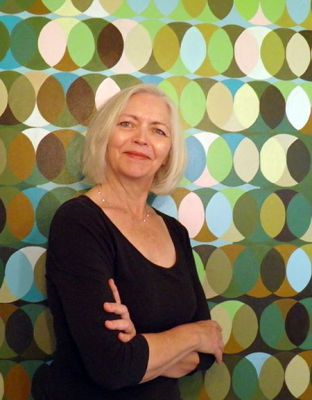 Artists often have a unique way of seeing the world around them. A line, shape or color may unexpectedly jump out and present itself, demanding to be noticed.
My paintings begin with a spark of emotion or a feeling of mood. As I travel, take a walk, or browse for ideas on-line, my imagination and interest will be caught by an idea, a quality of light, a beautiful line, or a new perspective on something that I have seen many times. I get the urge to explore this further through painting. I often work in series of images, to fully interrogate an idea. As I paint the subject over and over, I can inhabit the scene. Its lines and volumes become part of me.
Getting started, I intuitively and quickly make an abstract or colorful ground. I dwell on the emotion and thoughts that piqued my interest and make marks or lay down color based on these feelings. Next, I determine the composition of the image. Often, this will follow my wonder as I gaze at the scene to be painted, emphasizing movement, light, or zooming in on detail as it catches my fancy. My image often runs off the edge of the paper, as I focus on a part and allow the whole to recede. I paint very quickly, pushing the line, volume and color to an abstracted place, looking for the "soul" of the subject, rather than its realistic image. My painting is finished when it reflects my initial feeling about the subject. If a viewer or collector also feels that emotion when they see the painting, I feel I have succeeded.
I love to experiment and explore new techniques. When painting plein air, I challenge myself with only three colors of sample latex house paint and a palette knife, to minimize the tendency to realism. In the studio, I push myself to make larger work. Whether painting plein air or in my studio, my goal is to joyfully and fearlessly create art that shares my wonder and delight with the world around me.
Denise Gimbel Resume
Education
Denise Gimbel began painting in 2017. Her education has been acquired through self-directed, independent study. She has benefited from on-line learning and mentorship with David Limrite and Nancy Hillis and attended atelier classes with Lury Norris.
Exhibitions and Awards
Palm Springs "Modernism" Fall Show, October 2022
Solo Exhibit, Ann Foxworthy Gallery, Santa Maria, CA Dec 2021 - Feb 2022
Featured Artist, Valley Art Gallery, Santa Maria, CA Regional Airport Gallery, July/August 2021
"The 2nd Half – 50 and Over" Virtual Exhibit, Las Laguna Art Gallery, July 2021
San Luis Obispo Museum of Art, Juried Show "Finding Spaces", April-May 2021
Virtual Gallery, Art Central Art Supply Gallery, Feb 2021
Valley Art Gallery, Orcutt, California 2018, 2019, 2020, 2021
Art Central Art Supply Gallery, San Luis Obispo, CA 2020
Private Collectors
Private Collector, Palm Springs, CA
Private Collector, La Jolla, CA
Kirsten Reid, Orcutt, CA
Wayne Schafer, Esq, Edmonton, Alberta
Bonnie M., Boston, MA
Deborah Shepherd, San Luis Obispo, CA (3 pieces)
Drs. Brian and Atsuko Rees, San Luis Obispo, CA (2 pieces)
Grace Church, San Luis Obispo, CA
Alex Ayoub, San Luis Obispo, CA (2 pieces)
Michael Job, San Luis Obispo, CA (5 pieces)
Susan Hightower, Los Osos, CA
Jean R, Paso Robles, CA (2 pieces)
Private Collector, Collioure, France (2 pieces)
Brian Harrison and Danielle Marquizeau, Maison Lafitte, France
Robert Jany, Collioure, France
Private Collector, Coustouges, France
Private Collector, Los Angeles, CA
P.O. Box 2789, Orcutt, CA
805.550.8449
denise@denisegimbelcontemporaryartist.com